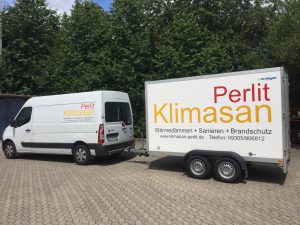 Würzburg-based Klimasan-Perit GmBH is your specialist for ecological building and insulation materials with a pure mineral base. As a natural resource, perlite combines outstanding constructional features in the areas of insulation, fire safety, dampness and noise regulation with an indoor climate which is just as comfortable as it is healthy. Furthermore, our efficient insulation plaster is easy to apply. Make nature your partner with Klimasan-Perlit.
Dear customers, colleagues and friends
In March 2015 my brother and I took over my father's company and since September I have been 100% active in the business. Growing up in a business family I already understood as a child what it means to work for yourself, to take personal responsibility, to take on challenges proactively and to push things forward with my own drive. In the school holidays I used every free minute working in the family company to earn my pocket money. After my A levels I graduated from the University for Technology and Economics (Hochschule für Technik und Wirtschaft) in Berlin with a degree in Business and Engineering. Before I decided to carry on into the family company, I made sure I gained further experiences, knowledge and sense of routine in another, larger company. For the last 4 years I worked in the Operations Department of the hi-tech company OMICRON. There I was able to significantly develop my knowledge of buying, assessing demands, production and logistics on a worldwide scale. I am taking on the challenges with which I am now being confronted with everything I have. I believe in our product and am looking forward to being able to work with our company.