Biodegradable mould remover Klimasan-Fux is a biodegradable mould remover containing no chlorine. Klimasan Fux is used to remove mould from and disinfect residential areas, above all: hospitals, elderly and care homes, nursery schools and doctors' practices, swimming pools, saunas and sanitary facilities, sunbeds and sports facilities, public institutions and the food industry. Klimasan-Fux is tested under the regulations of the German Veterinary Medical Society in the food sector and is applicable for hospital prophylaxis (listed with the German Society of Hygiene and Microbiology). Properties Klimasan-Fux is a biodegradable mould remover (>90%). After applying and removing the residue Klimasan-Fux must not be rinsed off and thereby keeps working as a biocide. Technical data form: fluid PH-value: around 7.5. Ingredients: cationic surface-active agents, free from chloride. Container standard, ready for use: 1 litre bottle and spray nozzle (extra)
General information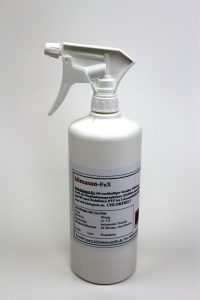 This information was carefully and precisely put together, however without guarantee of comprehensiveness or accuracy and without liability for the further decisions of the user. The information alone establishes no legal relations or additional obligations The customer needs to test the product first to check it works in their individual case.
Our products are subject to, as with all which contain raw materials, a continual monitoring in which a constant quality is guaranteed.
Klimasan-W the plaster for exterior insulation
The most natural and sustainable insulated wall, which has proved itself for centuries, is a compound of all-natural building materials. E.g. bricks, mortar and plaster possess similar thermal conductivity coefficients and are structurally compatible. Even with a single 30cm thick brick wall with Klimasan -W thermal insulation plaster 6cm outside and 2cm Klimasan-I interior insulation plaster you can achieve a thermal conductivity (U-Wert) of 0,25 w/m2. By insulating your wall with Klimasan you are building a house for generations – solid, age resistant and ecologically healthy. We are happy to show you concretely that a wall insulated with Klimasan is also first economic choice.