Capillary active renovation plaster Klimasan-S, the uniform highly thermal insulating restoration plaster, on the market for over 35 years.
"If water comes and goes, it does no harm!" The German architects knew this already in the 15th century. This knowledge is the basis of the Klimasan renovation system. Instead of falling back on locking and sealing the walls before insulating, the capillary active Klimasan-S kicks in and ensures a house with a balanced room humidity.
Absorption of salt solution: A dissertation study lead at the University of Leipzig by Professor Doctor of Engineering and Philosophy, P.Bauer in 1999 shows that over 400 hours Klimasan-S takes in more than 10 times the dampness than common renovating plaster.
Data
Thermal Conductivity  0,077   W/(mK)
Dry density 300            kg/m3
Compressive strength 1,6        1,6 – 3  N/mm2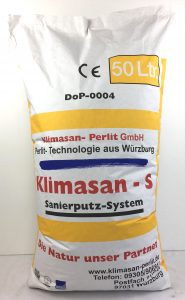 Bending tensile strength 0,8     N/mm2
Water vapour diffusion resistance         µ=6
Modules of elasticity 2000        N/mm2
Building material class A 1
Water absorption coefficient                 >3kg/m2 h0,5
Consumption
Sack conains 50           litres
Water requirement       15        litres
Productivity      around 35 litres wet mortar per 50 litre sack